Pacific Bonanza Society Historic America Air Safari
September 5 – 20, 2004 by Steve & Teri Walker
First, we would like to thank our PBS Historic America Air Safari Sponsors LightSPEED Aviation and Jeppesen. LightSPEED donated one of their fabulous, top-of-the-line Thirty 3G Active Noise Canceling headsets (with cell phone interface) and Jeppesen provided a copy of their excellent FliteStar flight-planning software. Both products demonstrated their excellence during the trip. Our fearless leader, Steve Walker enjoyed the blissful absence of noise throughout the 5,500 miles of the Air Safari, as he "tested" the LightSPEED Thirty 3G headset, making use of the cell phone interface several times each day to notify the day's FBO, hotel and transportation companies of our impending arrival times. The entire Air Safari was flight planned using FliteStar software and detailed route segment maps, navigation logs, airport information reports, FAA flight plans and terrain-clearance route plots were printed for each pilot. Our lucky pilot Larry Bramhall and lovely wife Lois won both the headset and software. Congratulations Larry and Lois!
September 6
After the morning briefing, the Air Safari was off on our first leg to Cody, WY. The weather was terrific. Four of our pilots were experienced Air Safari members and took the First Timers under their wings - literally. If you have never flown with a group of 11 pilots traveling across country as a flight, let me say how reassuring it is to have others looking out for you and sharing the experience along the way. You will learn to get to know each other quickly. Communication is very important; keeping track of each plane's location, speed and sharing a joke or two, as well. Just like anything in life, when you learn about something new and do it several times, you get better at it.
Our group adventure in the sky seemed shorter then traveling solo. Just when we were getting into the groove, we were approaching Cody. It seemed as if we had departed not that long ago! The Spring Mountain Aviation staff were professional and took good care of the group. The folks at Buffalo Bill's famous Irma Hotel arranged for Mike & Margie of Cody Trolley Tours to meet us at the airport and whisk us off to lunch at Bubba's Barbecue – GREAT FOOD! Then off to the Irma to check-in and before visiting the Buffalo Bill Historical Center. Now, if you want to be treated to a first-class experience, stop in Cody and look up Cody Trolley Tours. Mike and Margie went out of their way to take care of us, even reserving complimentary front row seats for us for the street shoot-out on our return from the museum. Thank you Mike and Margie for your thoughtfulness and special touch!
September 7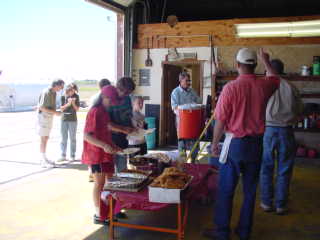 The group was off to Hannibal, MO with a gas stop and lunch in Broken Bow, NE. We were a little late because we took time for a photo op and final good-byes with Mike and Margie. On arriving at Broken Bow, we enjoyed Greg Dobish's great airport barbecue. It was truly yummy food and their fried bread was an especially big hit. While we ate lunch, Jim Lohman of TJ Aircraft took care of everyone's fuel requests with genuine Midwest kindness. Jim did not take credit cards and did not want to leave us short of cash for our trip, so he asked that we each mail him a check for the fuel when we returned home in a couple of weeks!! WOW. We did not get a chance to explore the town of Broken Bow but if it is anything like the wonderful people at the airport, we want to come back for a visit for sure. The Air Safari did make front-page news in the Custer County Chief newspaper (September 9 edition), thanks to reporter Kerri Rempp who ventured out to interview the pilots and their family members regarding the Safari, our itinerary and experiences. Thanks Kerri for taking interest in our Historic America Air Safari adventure.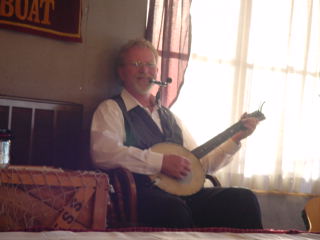 Still a bit behind schedule, we flew on to Hannibal, MO – our stop for the evening and another great experience and opportunity to deal with more great people, too. We cruised the Mississippi on the Mark Twain paddle wheel riverboat, enjoying a delicious dinner and wonderful ambiance. Gee, I wonder if Huck Finn or Tom Sawyer were walking along the riverbanks?
September 8-9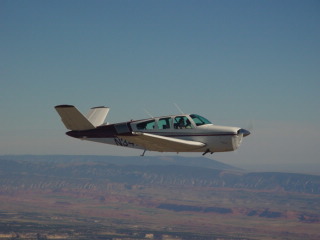 Three days of flying with each other and already I believe we are getting the hang of it! Leaving Hannibal, we head to Dayton, OH with some concern about the weather ahead. Due to the fall out from hurricane Charlie, there was some cloud build up near Dayton. About an hour out of Dayton our scouts Ray and Zana Redden - who we 50 miles ahead of the group in their Baron – suggested we find an alternate as Dayton was socked in. Lo and behold, just off to our left was Indianapolis, IN. We made the detour and selected the Eagle Creek airport with Irwin Reeb's help, since this was Irwin's stompin' grounds. Thanks Irwin! Now, this was a true test in communication and teamwork as each of us followed the plane in front of them in the deviation to Eagle Creek. We thought we might wait out the storm and head on to Dayton, but Mother Nature had a different plan for our group. To see the United States Air Force Air Museum we needed to rent vans and drive to Dayton (2.5 hrs); boy, these are moments when you really appreciate our flying carpets!
As a result of our unplanned overnight in Dayton, we lost our day in Philadelphia but Annie DeLeon, our PBS Travel Agent was able to find a great hotel for us in Dayton and rental vans to get us there, too! We had a great time. The weather cleared the next afternoon and about 4pm, the group lined up at the run-up area and requested clearance from the tower to take off as a flight. There was some hesitation from the tower but Steve eased their mind telling them we had been doing this for a while. Once cleared by the tower, all planes lined up on the runway and then the word was given, "Bonanza 1" rolling. I happened to look back to see our group lift off – breathtaking, simply breathtaking! The tower called back saying "Bonanza flight, that was a great sight to see. Thanks!" On to Gettysburg, PA and what a wonderful flight with puffy clouds below and clear blue, above. Arriving into Gettysburg that evening with the sun shining on the mountaintops with the town lights on was a perfect conclusion to a peaceful flight.
September 10
First thing in the morning, the group toured the Gettysburg battlefield with a Licensed Battlefield Guide driving to each site to explain the events of each day's battle. Later, the group had the chance to visit the showcase farm home of President Dwight Eisenhower.
September 11
Since our route of flight from Gettysburg to Charlottesville, VA took us right by the Camp David Presidential Retreat, we had coordinated the flight with Potomac TRACON. This turned out to be even more beneficial since it was 9/11 and the President was in residence at the time. An F16 is exciting to see but not close-up while airborne! Landing in Charlottesville, we toured Monticello, Thomas Jefferson's mountaintop mansion followed by lunch at historic Michie Tavern. An afternoon flight to Colonial Williamsburg, VA allowed our arrival around 5 pm and just in time for dinner.
September 12-14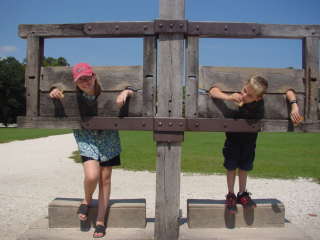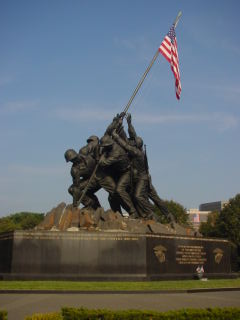 These three days were jam-packed with history, starting with a day in Colonial Williamsburg. Walking the cobblestone streets is was an amazing opportunity to relive the experience of what Colonial times must have been like. As for me; I am glad to be here in the present! Next, we traveled via private motor coach to Washington DC with stops at Arlington National Cemetery, the presidents' memorials, the Vietnam and Korean walls then to the Smithsonian and our last stop to the Holocaust Museum. The bus ride home was quiet with most of us resting our weary bodies. Our last day was filled with tours to Yorktown and Jamestown; I believe we maxed out our group with history of our nation in three short days – amazing what you can do!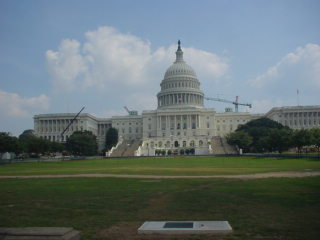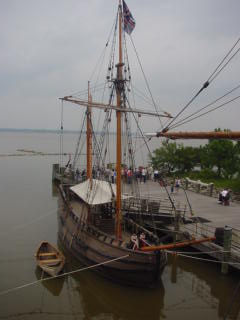 September 15
Early morning overcast and rain and even a downpour or two delayed us and the news that Hurricane Ivan was expected to make landfall in Mobile the morning of our scheduled arrival that forced us to cancel the our stops in Kitty Hawk, Charlestown and of, course Mobile. While we waited at the Williamsburg-Jamestown airport for the weather to improve, airport owner Jean Waltrip was a gracious hostess. We decided to reroute to Hot Springs, AR in order to avoid being trapped on the East side of the hurricane. Once again, Annie proved a godsend, securing rooms for us. This was no easy task since most of Florida and Alabama were fleeing to Memphis or Hot Springs to avoid Ivan's path.
September 16
Oh, to wake up to blue skies and beautiful weather, what a joy! We are now on the last stretch of the Historic America Air Safari. It is amazing how time flies! We landed at San Antonio International and listening to the tower chatter with other aircraft, we could tell they were BUSY! We were cleared to land as a flight and let me tell you, this "right seater" was impressed to see this group land side by side almost in unison. There were two runways next to each other and our group expedited and cleared the airspace with ease. You would think we were pros and by now, we were! What an awesome sight to see how our group of pilots can take-off and land as a flight!
The group went their separate ways to tour Alamo with most deciding to visit the Riverwalk for dinner and a scenic stroll. Even though it was a very warm evening, it was enjoyable to see the town.
September 17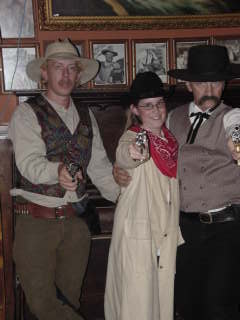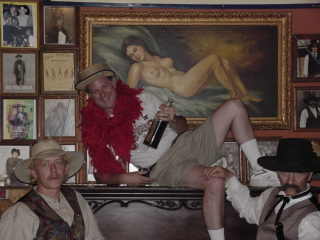 Up early and off to the first International Airport in Douglas, AZ with lunch and overnight accommodations in the lovely, historic Gadsden Hotel. Hotel owner Robin Brekhus personally picked us up at the airport and arranged for van rentals to transport us to Tombstone, home of Wyatt Earp's "Shootout at the OK Corral" an the Birdcage Saloon! After all that excitement, most of the group relaxed and quenched their thirst. You do not want to mess around with this gang; you get on the wrong side and watch out!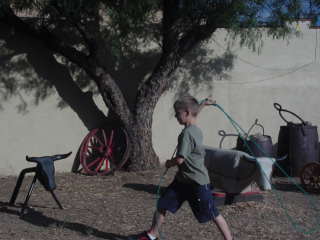 This little buck-a-roo was out 'ropin' himself a calf to take home and raise – kind of a scrawny critter, though… Well just like any good western story, our hero's ride off into the sunset. Huh, wait a minute, we are pilots we do not ride… we FLY!
September 18-19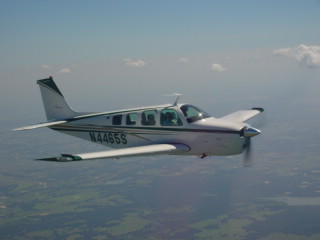 We now come to the last stop on our itinerary, Concord, CA. What a contrast - one day you are in the warm comfortable weather of Arizona and the next day we are in cool fall weather in California. Our first trip was the Wharf, the California Street Cable Car and Chinatown. It sure was cold that evening, but we survived! The next morning we arose leisurely and then went on a tour of the WWII aircraft carrier USS Hornet, complete with a catered lunch in the Officer's Wardroom. It was enjoyable and amazing to tour such a large ship and it had a special meaning for Steve Walker, since his dad flew the F4U Corsair from the Hornet as a Navy Fighter Pilot during World War. We concluded our last night together gathered at Russ and Kathie Hackler's lovely home for a barbecue and drawing for the LightSPEED headset, Flightstar flight planning software and many other gifts. What fun! Thank you, Russ and Kathie for your generous and warm hospitality, plus great food!
We truly enjoyed a fun-filled, jam-packed flying adventure that will be fondly remembered for years to come. Along the way, we met new friends, reunited with old ones, discovered that Steve was right when he stated at the outset that "there are no long trips – just a series of short ones" and discovered that with proper planning (and flexibility) even a trio of hurricanes cannot dampen a trip in a Beechcraft Bonanza. The best part is that the Historic America Air Safari need not be a 'once in a lifetime' event, since the Pacific Bonanza Society hosts two or three similar events each year. Experience the fun for yourself in 2005. See you there!
Photos & Text courtesy of Teri Walker